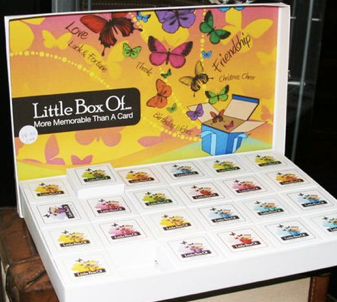 13 year old school girls shows us how it's done.
Every now and then we see a little something special.
A business, an idea or an individual.
Something that makes seasoned pros, take a little bow.
And this month's Take a Peak Inside, it is safe to say is a whole box of special.
This month, we had a chat to Tyra Bilton.

A 13-year old school girl come entrepreneur.
Whose first foray into business had her product go into 25 retail gift stores within 30 days.
To listen to the download the interview click here: Interview
With some reordering as many as 3 times during that period.
And the whole time with a big cheery smile, knowing her business idea is bring a little love and smiles to her clients.
Whilst giving her a very healthy pock money machine.
But the thing that really struck a chord was how simple Tyra (with help of her Mum) made the journey.
They didn't over complicate it.
They had a great idea, did some research, tested the market and took action.
Simple, bulletproof formula.
It all came about as Tyra wanted to create an income for herself. She wanted to make a product to sell at the markets for pocket money but the seeds to that idea have gone way beyond the markets.
But let's hear from Tyra herself. Here's snippets of the interview (and like always you can head to www.birddog.com.au/tyra for the full interview)
Firstly what is the product?
"Well, it's called A Little Box Of, and the little box is full of sentimental keepsakes, like, uhm, the little boxes have little things that would have their own meanings Quirky, funny, but all endearing"
What's in the boxes? (Side note there's currently 12 different boxes available).
"In a love box sits a puzzle piece, and it says "I'm not complete without you", uhm, in the friendship box sits a sponge, it says "To soak up all the good memories", uhm… Oh and we've got a nugget in the Grandma, it means  "You're worth your weight in gold"
And there's lots more too…"
So how did you come up with the idea?
"We bought a gift for my mum's girlfriend, and then we thought, like we can make this better, we could do more to this. So we would like search to see if there is anywhere else that was doing it, and thought we could start something up"
So far so good. Had desire to start something, had an idea, created the product…
On we go.
So did you test the market?
Before we took it in the shops, we shown, we waited till we got a good prototype together, and then we showed friends, we got a really good reaction off everybody
And so we're hoping we get the same reaction of all the shops too, which we have!
What was your approach with the shops?
When we went around, tried to sell them, even if the shops said no we asked what their opinion was…
Brilliant…
And here's another gem….
Kaz (Tyra's mum) added this:
And this is how smart this kid is, I was so worried about the quality and, Tyra said "Mom, it's not about what's in it, it's about the meaning behind what's in it". 
That there is one massive nugget of wisdom. Sometimes we strive for perfection which can paralyze action and any chance of success.
And often good is good enough, especially when laced with a powerful emotion such as the "Little Box Of" products.
And to give you an idea of how well these magic boxes are going:
A local Cardiology store – a national franchise – said they'd test the products for a couple of weeks.
How'd that go you ask?
Well, 7 days later they called and ordered another 75 boxes……
So this is just the beginning for this budding entrepreneur and we are excited to bring this story to you.
There's a lot more pearls of wisdom in the full article. So head on over here to find out more about Tyra and her fantastic story.
Comments (0)